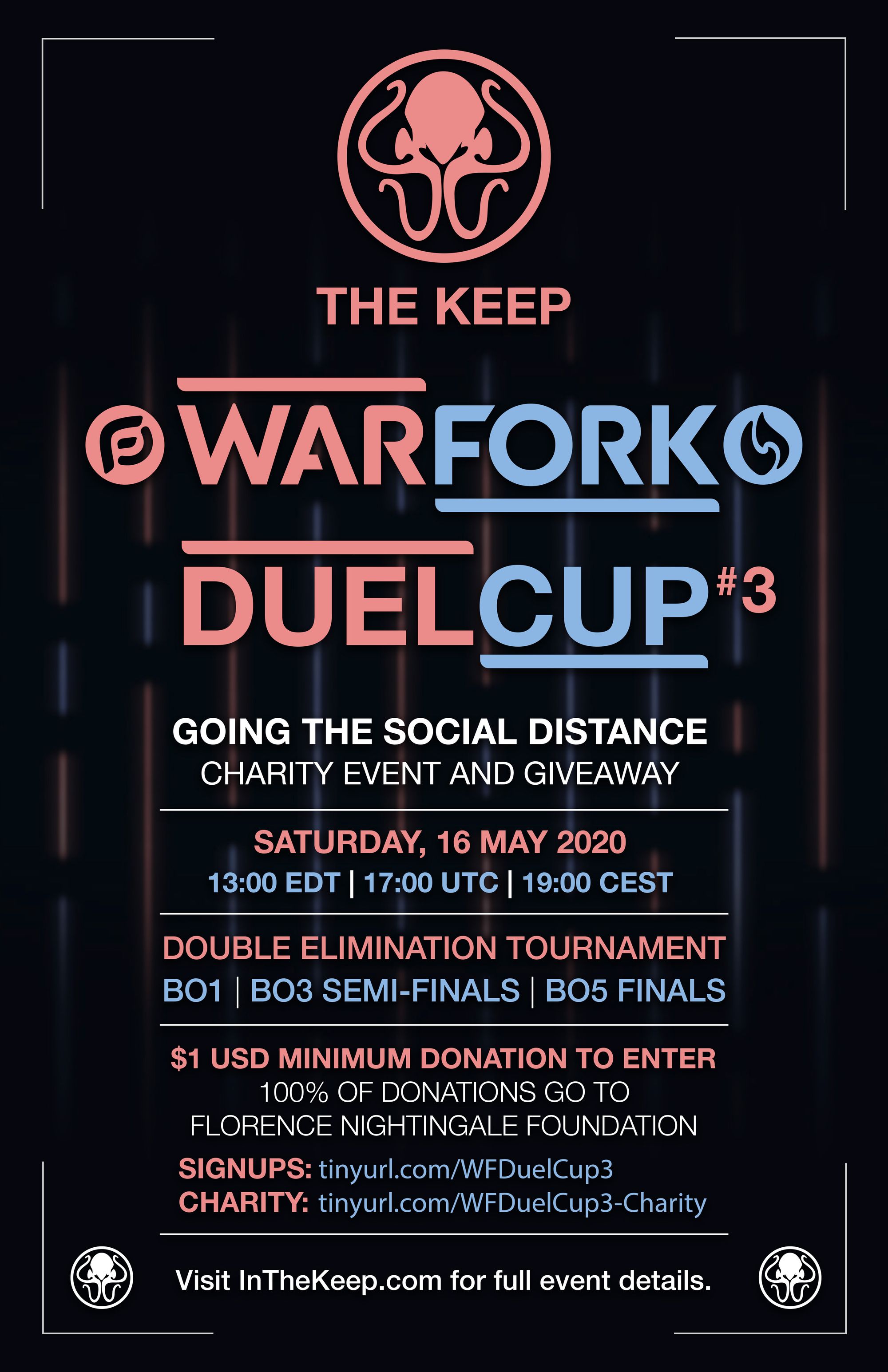 Warfork Duel Cup 3 - Saturday, May 16, 2020 - 13:00 EDT | 17:00 UTC | 19:00 CEST
In light of the COVID-19 situation, we've decided to host this event to benefit the Florence Nightingale Foundation who provide scholarships to the best nurses and midwives who then make a difference to patient care, policy and practice in their chosen fields.
Throughout this tournament, we will also be having a giveaway with Steam Keys and In The Keep T-Shirts, so keep an eye on the Twitch Stream!
All proceeds related to the stream and the tournament registration donations will be going to the Florence Nightingale Foundation! We hope that many of you will choose to participate in this tournament, regardless of skill level, to help support this effort!
This event requires a minimum donation of $1 (USD) to participate. The donation can be made to The Keep and be added to our donation, or, you can donate to the Florence Nightingale Foundation directly at this link and provide proof of your donation.
It is perfectly acceptable to have someone else donate on your behalf, regardless of whether or not they are participating. More participants means more donations; feel free to sponsor your friends!
Maps
The following maps are being featured in this event:
wfdm2
wfdm5
wfdm10
wfdm12
acid3dm10
acidwdm2
jh_blue

The wfdm maps are included in Warfork, and the three community maps can be downloaded here:
Structure
Rules
Administrators have the right to kick, ban, or disqualify players at any time.
Administrators have the right to determine the outcome of a map/round in the event of technical issues or participant tardiness.
Please be respectful and have fun.
You must be present in The Keep Discord 15 minutes prior to the start of the event.
Administrators will submit forfeitures if necessary.
Out-of-bounds exploits are explicitly banned. If you can get to a hard-to-reach area within a map, that is okay, however, you cannot use any sections of the map without visible flooring. Administrators have full discretion on this ruling.
We will be allowing participants to moderate their own matches for the first several rounds of the bracket, so players will need to report their match outcomes to tournament admins via Discord
Double Elimination, Best Of 1
Semi-finals in upper and lower brackets will be Best Of 3
Finals will be Best Of 5, and a 1-map advantage will be given to the player coming from the upper bracket; there will not be a 2nd "grand final"
Bracket
Map Selection
Best Of 1 matches

Each round of the tournament bracket will have a speficic map that players will compete on

Best Of 3 matches

The player with the lower initial seed will do a cointoss (cointoss heads or cointoss tails in console). The winner of the cointoss will be referred to as Player 1, and their opponent will be referred to as Player 2
The maps will be chosen in the following order:

Player 1 drops a map
Player 2 drops a map
Player 1 drops a map
Player 2 drops a map
Player 1 picks Map 1
Player 2 picks Map 2
The remaining map is Map 3

Best Of 5 Final

The player coming from the upper bracket begins the Best Of 5 Final with a 1-map advantage
The player with the lower initial seed will do a cointoss (cointoss heads or cointoss tails in console). The winner of the cointoss will be referred to as Player 1, and their opponent will be referred to as Player 2
The maps will be chosen in the following order:

Player 1 drops a map
Player 2 drops a map
Player 1 drops a map
Player 2 picks Map 1
Player 1 picks Map 2
Player 2 picks Map 3
The remaining map is Map 4
Registration
Registration closes on Saturday, May 16, 2020 at 03:00 EDT | 07:00 UTC | 09:00 CEST
Registrants are required to donate at least $1 or have someone else donate on their behalf. Donations can be made via StreamElements or the Florence Nightingale Foundation's website
Registrants are required to be in The Keep Discord Server
Admins will reach out via Discord for proof-of-donation; please keep some form of proof that you donated, such as a screenshot or email
Please use the following form if you want to participate:
Servers
North America:
[TX, USA] 45.32.195.189:44400 - [ IN THE KEEP ] Duel Cup - Dallas 1
[TX, USA] 45.32.195.189:44401 - [ IN THE KEEP ] Duel Cup - Dallas 2

[IL, USA] 104.238.162.222:44400 - [ IN THE KEEP ] Duel Cup - Chicago 1
[IL, USA] 104.238.162.222:44401 - [ IN THE KEEP ] Duel Cup - Chicago 2

[GA, USA] 155.138.222.228:44400 - [ IN THE KEEP ] Duel Cup - Atlanta 1
[GA, USA] 155.138.222.228:44401 - [ IN THE KEEP ] Duel Cup - Atlanta 2

[WA, USA] 45.76.247.124:44400 - [ IN THE KEEP ] Duel Cup - Seattle 1
[WA, USA] 45.76.247.124:44401 - [ IN THE KEEP ] Duel Cup - Seattle 2

[NJ, USA] 45.77.206.217:44400 - [ IN THE KEEP ] Duel Cup - New Jersey 1
[NJ, USA] 45.77.206.217:44401 - [ IN THE KEEP ] Duel Cup - New Jersey 2

[FL, USA] 144.202.42.135:44400 - [ IN THE KEEP ] Duel Cup - Miami 1
[FL, USA] 144.202.42.135:44401 - [ IN THE KEEP ] Duel Cup - Miami 2

[CA, USA] 207.246.97.254:44400 - [ IN THE KEEP ] Duel Cup - Los Angeles 1
[CA, USA] 207.246.97.254:44401 - [ IN THE KEEP ] Duel Cup - Los Angeles 2

[Toronto, CA] 149.248.50.94:44400 - [ IN THE KEEP ] Duel Cup - Toronto 1
[Toronto, CA] 149.248.50.94:44401 - [ IN THE KEEP ] Duel Cup - Toronto 2

Europe:
[London, UK] 45.63.96.220:44400 - [ IN THE KEEP ] Duel Cup - London 1
[London, UK] 45.63.96.220:44401 - [ IN THE KEEP ] Duel Cup - London 2

[Paris, FR] 45.32.150.46:44400 - [ IN THE KEEP ] Duel Cup - Paris 1
[Paris, FR] 45.32.150.46:44401 - [ IN THE KEEP ] Duel Cup - Paris 2

[DE, EU] 209.250.238.143:44400 - [ IN THE KEEP ] Duel Cup - Frankfurt 1
[DE, EU] 209.250.238.143:44401 - [ IN THE KEEP ] Duel Cup - Frankfurt 2

[NL, EU] 78.141.213.180:44400 - [ IN THE KEEP ] Duel Cup - Amsterdam 1
[NL, EU] 78.141.213.180:44401 - [ IN THE KEEP ] Duel Cup - Amsterdam 2

Russia (Provided by Chortas):
[NSK, RU] 109.237.111.108:44400 - [ IN THE KEEP ] Duel Cup - RU NSK 1
[NSK, RU] 109.237.111.108:44440 - [ IN THE KEEP ] Duel Cup - RU NSK 2

[VDK, RU] 217.150.78.55:44400 - [ IN THE KEEP ] Duel Cup - RU VDK 1
[VDK, RU] 217.150.78.55:44440 - [ IN THE KEEP ] Duel Cup - RU VDK 2

South America:
[São Paulo, BR] 154.16.57.213:44400 - [ IN THE KEEP ] Duel Cup - Brazil 1
[São Paulo, BR] 154.16.57.213:44401 - [ IN THE KEEP ] Duel Cup - Brazil 2

SEA:
[Tokyo, JP] 45.32.43.35:44400 - [ IN THE KEEP ] Duel Cup - Tokyo 1
[Tokyo, JP] 45.32.43.35:44401 - [ IN THE KEEP ] Duel Cup - Tokyo 2

[Sydney, AU] 45.77.48.218:44400 - [ IN THE KEEP ] Duel Cup - Sydney 1
[Sydney, AU] 45.77.48.218:44401 - [ IN THE KEEP ] Duel Cup - Sydney 2

[Singapore] 45.32.120.185:44400 - [ IN THE KEEP ] Duel Cup - Singapore 1
[Singapore] 45.32.120.185:44401 - [ IN THE KEEP ] Duel Cup - Singapore 2

[Seoul, KOR] 141.164.39.156:44400 - [ IN THE KEEP ] Duel Cup - Seoul 1
[Seoul, KOR] 141.164.39.156:44401 - [ IN THE KEEP ] Duel Cup - Seoul 2

Contact
If you have ANY questions related to this event or participating in this event, please reach out via Discord to any of the following individuals:

GelmoSan#7869
Zeb#7832
TheMotherload#3633

If you need to reach us via email, please reach out to help [at] inthekeep.com